By KALD|Voltaonlinegh.com|
A Ho-based Non-governmental Organization, Xornam Foundation has donated learning materials to some deprived pupils in three selected basic schools in the Volta region.
The items comprising exercise books, mathematical sets and pens were presented to the beneficiary pupils at the Dzelukope E.P Basic School in the Keta municipality, Hodzo L/A and Ziavi-Lume Junior High Schools, both in the Ho municipality.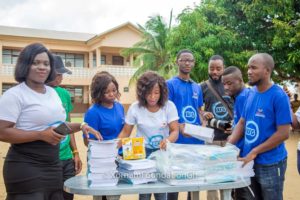 In all, about 210 pupils benefited from the gesture in the three schools with each of them receiving five exercise books, two pens and a mathematical set to aid their learning activities for the  2018/19 academic year.
According to the NGO, the gesture formed part of its Education Drive project, aimed to empowering underprivileged children to stay in school regardless of their social circumstances.
Miss Praise Anani, proprietor of Xornam foundation who led a team of volunteers and members of the foundation on the charity mission to the schools on Monday, noted that "This initiative was to help these deprived rural children understand the need for education and as well support them with some necessary learning materials."
"A lot of these rural children drop out of school because of lack of learning materials, so through this project, we were able to give each student 5 exercise books, two pens and one mathematical set," she added.
Miss Anani who expressed the commitment of the foundation to ensure every child gets quality education, was also hopeful that the gesture would inspire and generate the interest of education in the children, "who are the future of our dear country."
The team during a mentoring session encouraged the pupils to look beyond their present circumstances and aspire for greatness as well as focus on their studies and eschew any form of deviant behaviour which could jeopardise their future aspirations.
Source: www.voltaonlinegh.com