By: Kris Delali Asare | Voltaonlinegh.com |
The Hohoe-Afadzato South Ghana Education Service Welfare Fund known as 'The Fund' has marked this year's International Day of Older Persons with a celebration to honour retired teachers at Cobies lodge in Ve-Golokuati in the Afadzato South District of the Volta Region.
There was also a free medical screening which saw the retired teachers screened for illnesses including high blood pressure and diabetes.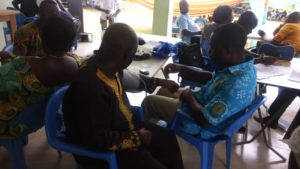 Speaking to Voltaonlinegh.com, Chairman of the Welfare Fund, Mr. G.M.K Sadzi said the celebration was the second of its kind and promised to maintain the annual celebration which coincides with the international day of older persons.
Mr. Sadzi was grateful to the retired teachers present at the occasion which also witnessed the unveiling of a GH₵30,000.00 mobile clinic van to cater for the health needs of members.
He blamed the low turnout on poor roads which are not friendly for most aged people and promised to procure a welfare van to facilitate the movement of the teachers in the coming year.
Meanwhile, the Ghana National Association of Teachers (GNAT) in the Hohoe Municipality donated an amount of GH₵1,000.00 to support the celebration.
In an interview with the Municipal GNAT Chairman, Mr. Kennedy Motiglo, he said the essence of the welfare was to bring the retired teachers together and give them a sense of belonging.
The International Day of Older Persons is observed on October 1 each year and was observed for the first time on October 1, 1991.
The day is about raising awareness on issues affecting the elderly such as senescence and elder abuse. It is also observed to appreciate the contributions that older people make to society.
Source: www.voltaonlinegh.com