By: Ewoenam Kpodo | Voltaonlinegh.com |
Findings from a recent survey by an independent and non-profit organisation, Africa Centre for International Law and Accountability (ACILA) has revealed that 44 per cent of Ghanaians will prefer to risk their lives than receiving emergency medical treatment from identified lesbians, gays, bisexual, transgender and intersexual persons (LGBTIs).
The survey, titled Popular Attitudes towards Lesbian, Gay, Bisexual, Transgender and Intersexual People (LGBTI) in Ghana, also revealed that out of 10 issues including armed robbery, rape/defilement, LGBTI issues, corruption, youth unemployment, high cost of living, poor infrastructure (e.g. road), illegal mining (galamsey), health care and education, LGBTI issues was ranked the second most worrying concern after corruption.
The survey was conducted to gauge the attitude of Ghanaians towards LGBTI issues and to provide comprehensive scientific public opinion data to engender discussion on the subject.
For the methodology, based on the 2010 National Population Census, a representative sample of 1200 adults (18 and above) was randomly selected from 5 regions, (Greater Accra, Ashanti, Western, Volta and Northern regions)  located in 107 enumeration areas (from the Ghana Statistical  Service) spread across 72 urban and 35 peri-urban/rural areas with fieldwork from 4th-20th June, 2018.
The Lead Researcher for ACILA, Mr. Kojo Impraim disclosed the findings to journalists drawn from Eastern and Volta  regions  for a two-day capacity building workshop on human rights from November 9th-10th at Koforidua organised by ACILA in collaboration with Human Rights Defenders Ghana, a subsidiary organisation of ACILA.
He said the tolerance level of Ghanaians to LGBTIs were surprising to the extent that some were willing to risk their lives.
"Majority of Ghanaians (80 per cent) are very uncomfortable or uncomfortable associating themselves with LGBTIs. However, 67 per cent will receive emergency medical treatment from a nurse or doctor they perceive as LGBTI. Thirty per cent of Christians; 40 per cent of Moslems; and 50 per cent of Traditionalists will not receive emergency medical treatment from a nurse or medical doctor who is perceived as LGBTI."
The report indicated that 44 per cent of "Ghanaians who are 51-61 years will not receive emergency medical treatment from a nurse or medical doctor who is perceived as LGBTI."
Various speakers took the journalists through Ghana's obligations under the chapter 5 of the 1992 Constitution and the International Human Rights Law to protect the fundamental human rights of all persons including the vulnerable in society to which (LGBTIs) belong.
A Human Rights Lawyer and Lecturer at Ghana Institute of Journalism, Mr Zakaria Tanko Musah in his presentation, simplified human rights to mean fairness, respect, humanity and dignity that should be accorded all manner of persons including people with sexual preferences considered to be a variation from the accepted one.
The Executive Director of ACILA, Mr. William Nyarko said there was the need for journalists to understand the provisions of the law on LGBTI issues to really inform their audience.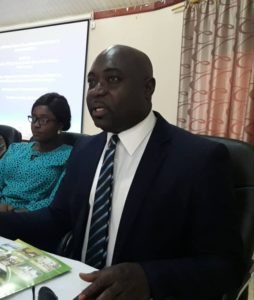 He debunked claims that there were conscious efforts from the developed countries to get Ghana to legalise activities of LGBTIs, saying there was no way Ghana would legalise the practice.
He explained that what ACILA sought to do was not to defend the act but rather to educate people not to perpetrate violence against LGBTIs because that will mean a violation of their fundamental human rights which they are by law, entitled to.
 Source: www.voltaonlinegh.com