Enterprise Ghana, a social programme with the aim to connect US investors to entrepreneurs in the Volta Region with the purpose of eradicating poverty, has supported a local Bee Farmer with an amount of GHS75, 000 for business expansion in addition to 4 other applicants who would be receiving various forms of support.
Madam Judith Akos Attamah of Honeyworld Honey from JA24 Foods Company operating in Greater Accra and Volta regions got awarded after a critical survey conducted on her business by the investors.
The others, Vozbeth K. Azumah and Napoleon Edem Donkor would receive funds to run a pilot of their project while Mabel Wurah and Florence Hini-Yevu-Agbi would receive some funds as loan to run their businesses.
According to Mr. Clint Morse, one of the investors, Volta Region is their preferred destination to invest because the region has a lot of business potentials mostly in the agriculture sector and that necessitated the project to financially support small scale business owners in the region to expand their businesses and create job opportunities.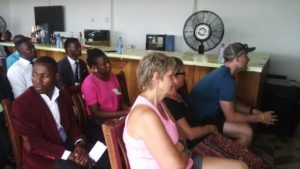 He said their first step in the region is to support the growth of businesses in the Ho municipality and its environs and then in the future revamp collapsing businesses across the region as a whole.
Clint indicated that 40 per cent of profits out of the GHS75,000 will go to Enterprise Ghana and 60 per cent to the beneficiary (JA24 Foods) to run the bee farming.
Speaking at a short meeting to sign a Memorandum of Understanding (MOU), the excited beneficiary (Judith Attamah) noted that she has been in the system over the past five years yet her company could not expand nor attract publicity due to financial difficulties.
She expressed hope that with the support from Enterprise Ghana and its U.S partners, her company will see an expansion, increase in production and employment.
Judith revealed that JA24 Farms would purchase, out of the money, a van or pick-up to ensure smooth delivery of the honey to its customers.
About the Project and Way Forward
EB Consult coordinated the press launch of Enterprise Ghana, on March 26, 2018. Advertisements followed on radio and social media platforms about the investment opportunity being provided by Enterprise Ghana.
About 100 applications were received by the close of business day of April 24, 2018. The team reviewed all the applications and reduced the number of applicants to 12.
At a selection interview earlier this month, Judith Attamah of JA24 Farms emerged the overall winner with the other four applicants who would receive supports worth over $50,000.
Board of Directors has been commissioned by the investors to oversee the business, and it would engage more young entrepreneurs mostly in the Agriculture sector in the region with similar amount or more in the future.
By: Albert Kuzor/voltaonlinegh.com