The Volta Regional Netball Association has selected ten (10) players for further justification for this year's National Sports Festival in Cape Coast. The selection followed the Association's first Justifier held at the Adidome Senior High School (ADISEC).
The Justifier which came off on Sunday, June 10 saw 24 individual players from Keta-Blamezado, Sogakope, Ada, Tefle, Mawoekpo and other old students from Akatsi College of Education, Sogakope SHS, Adidome SHS, and Aviyeme Battor SHS. The 7 aside single sex game which begun in the early hours of Sunday, had Bernice Gakpey, Emefa Agboado, Isabella Asilevi, Gloria Azumah, Ruth Agyeman, and Joyce Narh. Others who completed the number included Lawrencia Dravi, Beatrice Deku, Queen Asinyo Doe and Bridget Misroameda.
Regional Chairman who doubles as the Volta Region P.E Coordinator, Bright B Dotse, Secretary Jack Adamah and other technical handlers were there to ensure they picked the best players.
Speaking to TalksenseSports, Regional Coordinator, Selorm Dusu said they will conclude the selection process in Ho at a yet to be set date, as the Northern zone cannot hold their Justifier due to busy schedules of the colleges.
Despite this challenge, the Association remained optimistic of getting the best players to represent the region in battling the rest for laurels.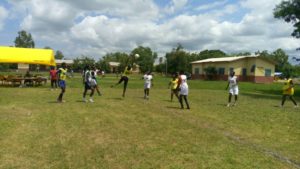 "There is a little problem. The Northern zone made up of the colleges are now writing their exams so we can't have the Justifier there, for this reason, we intend just picking the very good ones for the final selection at Ho. We also had information that the Inter Colleges Games will also take place around the Sports Festival date in Tamale and it will be a major problem for the team."
"The Justifier went well, we had quite a number of players participating and we are expecting the other zones to have it. In short, everything was successful and it was also very competitive as we had individual players instead of clubs, and that was ok." He added
This year's Sports Festival at Cape Coast, comes off from July 29 to August 9, 2018.
By: Davis Nii Attuquaye Clottey/voltaonlinegh.com