Abutia Development Union, a group of concerned citizens of Abutia Traditional Area in the Ho West District of the Volta Region have called on the government to cede Kalakpa Game Reserve, a wildlife forest reserve in the area to the traditional authorities to manage.
The Group alleged government is not using the forest for its intended purpose but rather allowing for all sort of illegal activities such as felling of trees and poaching of animals to go on in the full glare of wildlife officials.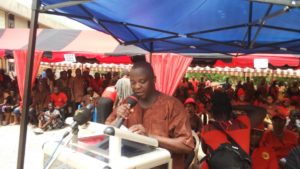 Acting General Secretary of the Group, Mr. Michael K. Wayo made the call when he delivered a speech on behalf of the group at the durbar of chiefs and people of Abutia to mark 2018 Asafotu Easter Festival.
The Festival which was themed, "Promoting Sustainable Eco-Tourism in the Kalakpa Game Reserve", aimed at uniting the youth in the area for social development. It attracted visitors from across the region clad in red T-shirts and cultural costumes led by the traditional warriors amidst singing and dancing through the principal roads in Abutia.
The Group believes the Kalakpa Game Reserve which covers about 32,020 hectares of land and serves as habitat for several species of birds and wild animals will be better managed when left in the hands of the locals.
Chief of the Area, Togbega Abutia Kodzo Gidi V backed the call of the youth and asked the wildlife officials to vacate the reserve if they cannot control the illegal activities,
He urged the youth to come together for the development of the area while advising them to remain good citizens in fighting that cause.
Meanwhile, Togbega Abutia Kodzo Gidi V expressed appreciation to the government in anticipation of the water project that his area is to benefit from and asked that government walks the talk by completing the project by the end of 2018.
He also appealed to the government through the Regional Minister, Dr Archibald Yao Letsa to bring back contractors to the abandoned Abutia-Juapong road to pave way for easy transportation of their farm produce to Accra and Tema.
By Albert Kuzor/voltaonlinegh.com