The Chiefs and People of Lume Traditional Area in the Volta Region are calling on the government and philanthropists to come to their aid to fix their water crisis.
Residents in three communities in Ho Central, Lume Atsiame, Agorve and Ge with a total population of about 4,000 have been battling with potable water for years now especially in Lume Atsiame, the traditional capital with a population of 1,500.
The situation is making life difficult for the people in the area, causing rural-urban migration among the youth, some young people revealed.
However, speaking during this year's Agogo Easter Festival held at Lume Atsiame, the Divisional Chief of Atsiame, Togbui Agbenyedzo VI described the situation as "a burden to their daily life."
He said the unavailability of potable water in the community has affected the academic performance of their children because they do not have time to learn as a result of wasting time being in long queues every dawn and evening to fetch water from the only borehole serving the entire community (Atsiame).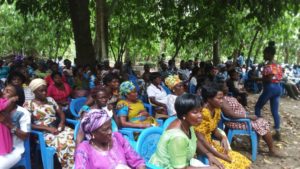 He bemoaned how the elderly in the community instead of relaxing, also queue up for water in the absence of the young ones, describing it as frustrating.
Speaking to VoltaOnline, the Assembly Member of Lume Electoral Area, Togbe Xadzi II, noted that the area over the years depended on a stream but during raining seasons only.
According to him, the situation remained the same until an NGO's intervention but that aid is at the moment struggling to stand.
"We have been moving to the next village called Dogbeme to get water. We in fact, had appealed to one of these NGOs to come and give us water. So, they came and gave us two boreholes but unfortunately, one is working the other is not working. The community is growing so all of us; school children, men and women going to get water from a single borehole is a challenge."
He said the community will be glad to have the government, NGOs or philanthropists coming to the support of the community by mechanizing the borehole.
"We want them to mechanize that borehole so that water is sent to the community. We have four clans, so at least each clan with one pipe stand."
The festival was celebrated on the theme: "Rekindling the Love for Community and Communal Spirit; the Role of the Youth" to foster youth empowerment and reshaping oneness among the three communities.
Agogo Easter Festival, which is an annual rotational ceremony among the three communities attracted a number of its citizens, home and abroad and was graced by Mr. Nelson Akorli the Municipal Chief Executive for Ho Municipality and other senior citizens of the area and is set to be celebrated at Agorve next year.
By: Albert Kuzor/voltaonlinegh.com