A heavy downpour in the Ho, Monday afternoon has left parts of the regional capital flooded, with dozens of shops and homes inundated with flood waters.
The rain which started at about 5:00 PM and lasted for almost an hour, left major storm drains and culverts overflowing with running waters.
This, also resulted in the flooding of sections of some roads within the capital, such as the Dome-Barracks, YMCA-Civic Centre-Asanyame, OLA-Market and Poly roads among others.
Shops and homes along these stretches at Bankoe, Anlokordzi, Poly, Dome and other places also had their fair share of the flood.
A visit to some of the suburbs after the downpour, saw affected residents scooping water and sand debris out of their shops and homes.
"These flood is more than what we experienced last year," an affected hairdresser on the Poly road, exclaimed.
A lot of debris have also piled up at mouth of some culverts, with some scattered on the street at the time of this report. No casualty was however reported.
debris inside the Civic centre bridge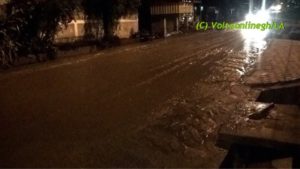 Asogli State palace road
over flooded culvert on the Poly road
Source: Voltaonlinegh/LA