The Volta Regional HIV/TB Coordinator, Dr Anthony Ashinyo has appealed to the public to desist from the discrimination and stigmatization of persons living with HIV.
According to him, labeling persons living with HIV as promiscuous, deviant and deserving of the epidemic is cruel and inimical to efforts and programmes to end the HIV epidemic.
Dr. Ashinyo said there are different ways that a person can get infected with HIV including use of non-sterile equipment, multiperson use of injecting equipment, through delivery, contact with body fluid, breastfeeding, and not just through unprotected sex.
He made this known at a day's workshop organised by the Ghana AIDS Commission (GAC) to hold an interactive session with Health Reporters and Senior Editors from the Eastern and Volta regions on Thursday, April 26, 2018 at Ho in the Volta Regional capital.
The workshop aimed to increase knowledge on HIV and AIDS, focus on regional perspective and challenges in reporting on HIV and AIDS issues, share current information on the epidemic and progress made in the national response
Also, to empower media personnel to initiate more programs and stories on HIV and AIDS and update media on new terminologies used in writing HIV and AIDS news.
He said AIDS is not a deadly disease describing it as, "syndrome of opportunistic infections and diseases that develop as the body's immune systems are suppressed due to HIV infection."
He therefore, advocated for people to undergo tests to know their HIV status to take caution to remain negative if tested negative or get support (Antiretroviral therapy)to manage one's status if tested positive in ending the AIDS epidemic as a public health threat.
Heart-Heart Ambassadors who were in attendance also added their voice to putting an end to discrimination and stigmatization of persons living with HIV.
They called for a change in how the epidemic is referred to in many Ghanaian languages, for instance in Ewe, " Dikanaku" (Grow-lean-and-die) which suggest the disease is deadly and scare people from even attempting to know their status.
Meanwhile, technical coordinators of the two regions in briefs on regional response updated the gathering on the achievements of the Commission in their respective regions.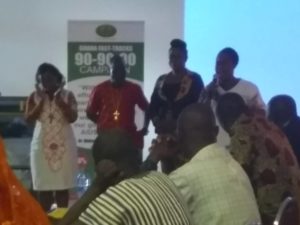 They included building capacity of focal persons to effectively coordinate decentralised response, use of social media to disseminate information among key stakeholders and reaching out to persons living with HIV, among others.
However, lack of financial resources, loss to follow-up, non-availability of lay counselors, lack of food and good nutrition to prisoners and false claim of HIV cure, etc were pointed out as challenges to ending the AIDS epidemic.
By: Ewoenam Kpodo/voltaonlinegh.com