By: Kris Delali Asare | Voltaonlinegh.com |
The Municipal Chief Executive (MCE) for Hohoe in the Volta Region, Mr. Andrews Teddy-Ofori has revealed that contractors who started the construction of the Eastern Corridor road would not be changed in the quest to complete the construction of the road.
He disclosed that the same contractor is the one currently working on the Ho-Sokode dual carriage road and will proceed to resume work on the Eastern Corridor road after completion.
The MCE made this known during a town hall meeting organised by the Information Services Department (ISD) of the Hohoe Municipal Assembly last Tuesday at the conference hall of the assembly.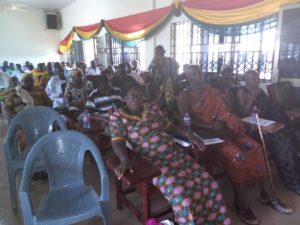 Mr Teddy-Ofori was responding to a question posed by a participant of the town hall meeting on the state of the Eastern Corridor road despite the numerous promises by government.
He said funds have been secured for the continuation of the project and that "since the rainy season is almost over, there shouldn't be any excuse to undertake the project."
The Regional Information Officer, Mr Stephen Adjah, assembly members, traditional rulers, security personnel, head of departments and the general public were present at the event.
Town hall meeting is about accounting to the people on government policies and programmes. It is organised by various district and municipal assemblies in the country as an avenue to bringing governance closer to the people.
Source: www.voltaonlinegh.com