By: Ewoenam Kpodo | Voltaonlinegh.com |
The Member of Parliament (MP) for Krachi East in the Volta Region and Deputy Minister of Sanitation and Water Resources, Hon. Michael Yaw Gyato has begun an Oti Movement Campaign in tertiary institutions in the country.
The MP who kick-started his campaign on Friday from the University of Cape Coast (UCC) in the Central Region will today, continue with his tour to the University of Education, Winneba (UEW) Central Campus also in the region.
The tour is aimed at ensuring that the MP meets with students from the Oti enclave for education and sensitization on the processes and the intended referendum scheduled to take place on December 27 in the area to enable the proposed Oti Region be carved out of the Volta Region.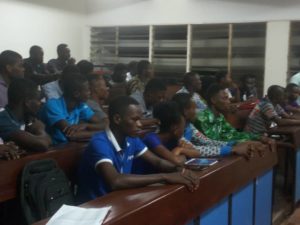 Already, the Electoral Commission has begun the exhibition of the Voters' register in affected areas expected to partake in December's referendum.
The exercise is a result of recommendations from the Commission of Enquiry set up by government last year to investigate the substantial demand for new regions in some parts of the country including residents in the Oti area (northern Volta).
The argument for the demand of the new regions was to facilitate development and fast-track the decentralisation of the governance process. However, it sparked protests especially from some people in the Volta Region who expressed the view that development could be extended to their brothers and sisters in the Oti enclave without necessarily dividing the region into two.
Gyato is embarking on the tour to abreast students of the need for the yet-to-created region and to recruit them to continue with the education at the various communities to get people to vote "YES" in the referendum in order to achieve 80 per cent of the votes that will give them the Oti Region.
The students drawn from Krachi East and West, Nchumuru, Nkwanta North and South, Kadjebi-Akan, Biakoye, Buem, and Santrokofi, Akpafu, Lolobi and Likpe (SALL) communities on their part, promised to join the campaign in their various communities after their end of semester examination to ensure success in the referendum.
Source: www.voltaonlinegh.com