The lifeless body of a man was found lying in front of a shop around the Ho timber market, close to the former NDC park on the Central market (Asigame) road, Thursday morning.
The man believed to be in his 70s, has been seen in the last few days, roaming in the vicinity, according to eyewitnesses. A shop keeper in the area, told Volta Online that, the old man looked quite sane and has interacted with persons who get close to him.
He however disclosed that, the deceased fell down during his usual rounds last Monday and was carried to the front of the closed shop by some bystanders, one of whom has since been feeding the old man daily.
"The Good Samaritan changed clothes for the old man and bought him food every morning and evening. But yesterday, the man told us, the old man refused to eat and we came this morning only see his lifeless body," the witness narrated.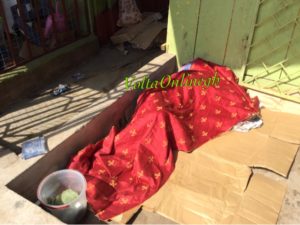 Another witness who previously interacted with the old man, said the deceased only identified himself as Komla Lawrence from Hlefi, in the Ho West district.
The body which was covered with a piece cloth, was later conveyed to the morgue by a team of police men from the regional command, after a distress call was made to the command.
Source: @Lambert_Coffie/VoltaOnlinegh