Emmanuel Kwame Owusu Asare and 5 others have taken up the mantle to steer the affairs of Cricket in Ghana for the next four years at an Elective Congress held at the Theodosia Oko Hockey Pitch Conference room on Saturday, July 14, 2018.
Mr Asare who was former vice President of the Ghana Cricket Association (GCA) under the Professor William Ampofo led administration, had no other contender for the topmost position of the President and had the backing of 19 delegates.
His elected Vice President, a veteran actor, Oscar Provencal also went unopposed after his only contender Samuel Asamoah pulled out of the race just before the election was conducted. The entertainer, once a national Cricketer who inspired the delegates, had 19 votes of confidence.
The position of the Treasurer which was also unopposed had Philip Danquah Debrah winning the hearts of the delegates with 20 votes. Philip, a founding member of Alumni Cricket Club, captained the University of Ghana Cricket Team from 2006 to 2009.
With the three other executive members, Vantaka Mahesh Krishna Narra, Chairman of Everest Cricket Club, Kofi Tandoh, former technical committee member and Narenda Vattikutti Director of Everest Cricket Club, got elected with 21, 20 and 19 votes respectively.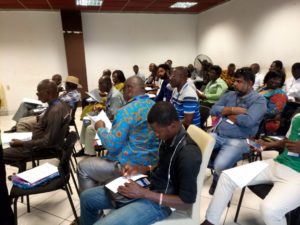 After the mandate of the Association was officially handed over to the new Board, President Asare said they would continue with the good work done by the previous administration and add more.
"We should not sit in our rooms but we all have to come together and move Ghana Cricket ahead. Everybody must be on board to achieve this because we are now going to start the hard work and it is going to be based on what the previous executive did. So, I take this opportunity to say a big thank you to Prof. William Ampofo and the rest of the team for the hard work they have done for the past 8 years. We are going to add to what they have done and add certain things as well".
In all, 25 out of the 28 expected delegates were present to vote as the elective Congress was supervised by Justine Ligyalingi, former CEO of Uganda Cricket and newly appointed ICC – Africa Development officer and Daniel Sarpei, Deputy Director of Sports from the National Sports Authority.
Ghana Cricket has over the years chalked many successes at the U-19, Women's and Senior Men's national side and hopes to do better each passing time.
By: Davis Nii Attuquaye Clottey/voltaonlinegh.com