By: Ewoenam Kpodo|voltaonlinegh.com|HO
The Ghana office of Engage Now Africa (ENA), a non-governmental organisation (NGO) in collaboration with Non-Formal Education Division (NFED) has marked this year's International Literacy Day (ILD) at Ho-Bankoe EP Primary Park in the Volta Region.
The International Literacy Day is observed every September 8 to raise people's awareness of and concern for literacy problems within their communities.
Saturday's observance which was on the theme: "Literacy and Skills Development" saw exhibition of products by some learners who acquired skills training ENA while another group performed drama to educate the public on the dangers of open defecation with others performing different roles on the day.
ENA, a development-focused NGO which is present in Ghana and four other African countries – Sierra Leone, Namibia, Uganda and Ethiopia – has been a champion of numerous development initiatives since 2002 in a bid to help people out of poverty.
Speaking on the sideline of the event, Country Director of ENA, Cecilia Amankwah said the enthusiasm of the learners was telling of the success of the literacy programme.
She said ENA's aim is to champion interventions to fight poverty and improve the lives of beneficiaries and at the heart of those interventions is the literacy programme.
"Poverty as we all know can never be solved with just one solution. We believe that we have multiple things to put together to enable us solve or eradicate poverty in Africa."
She underscored the impact of the literacy programme on the learners, saying, "just learning how to read and write made them to gain their self-esteem and self-confidence."
Madam Amankwah said the way forward was to extend the literacy programme to the remaining two regions- Brong Ahafo and Upper West regions citing problems of location, trainers and facilitators and called for support from government and other NGOs "tailoring their work of programme on what ENA is doing" to elevate the people out of poverty.
Deputy Volta Regional Minister, Maxwell Blagodzi in a speech commended ENA, and other NGOs including Pencils of Promise and Voice-Ghana for helping to reduce illiteracy in the region.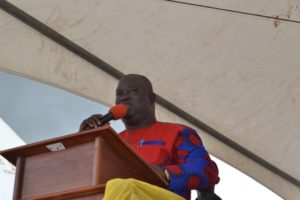 Mr. Blagodzi considered literacy as a human right "which must be protected and promoted. To him, it has more to do other than just reading and writing.
"Literacy is not limited to only the ability to read and write in foreign language but also the ability to read and write in one's own language. Furthermore, literacy is not limited to only the ability to read and write but also has to do with the ability to understand what one reads."
The Deputy Regional Minister said though the 1992 Constitution recognised the critical role of literacy in the nation's development and made basic education free and compulsory in the country, over 2 decades, "it will interest you to know that about 20 per cent of our adult population aged 15 and above are considered illiterates."
He said as a resolve to address the menace, the current government has shown commitment to make basic education free, compulsory and available to all" with the implementation of the free senior high school policy.
He assured that the Volta Regional Coordinating Council on its part will work closely with NFED, NGOs and other stakeholders in education to reduce illiteracy in the region.
MP for Ho Central, Benjamin Kpodo urged officials of NFED to work hard to promote literacy in the country.
He advised the learners to keep themselves open to learn from various sources in addition to their evening classes. He asked them to listen to and watch news as that provide an avenue to learn of new things and take lessons from speakers at various social gatherings especially the church.
By: Ewoenam Kpodo/voltaonlinegh.com