Hundreds gathered on April 1, at Apetorku's Shrine in Akatsi South District of the Volta Region for the celebration of 2018 Apetorku Easter Festival.
The ceremony which was held at a shrine in Dagbamete a suburb of Akatsi was characterized by cultural displays and sacrifices to the gods.
Most of the attendees who were clad in white clothes, beads and perfumed powders devoted their time to participate and played their roles in styles.
The reigning priest, "Hunor" Torgbui Apetorku noted that, the aim of this year's gathering was to advance the role of traditional religion in enhancing national development.
He said the gods were built on principle of love, truth, justice, good neighbourliness and peace. He added that for the past ten years of his tenure, people (home and abroad) who sought his spiritual help had their wishes come true.
Huno Apetorku who deals in healing of sicknesses, protection of life and properties, protection against evil spirits, and promotion of development projects among others, has built a modern hospital to support the only CHPS Compound serving more than seven communities in the area.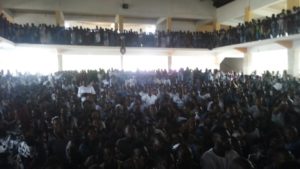 The Awoamefia of Anlo State, Torgbui Sri III who graced the occasion used the medium to appeal to Ghanaians to respect one's religion without discrimination.
The Awoamefia averred that the traditional believers are the few who obey the rules of life (the ten commandments) and need to be given attention and called on the government to reconsider the role of traditional practices especially pouring of libation during national events.
The gathering which was under the theme: "Love for one another, One of the Cardinal Principles of Torgbui Apetorku", attracted several political bigwigs;  Former President Jerry John Rawlings, Former MPs, Representatives from the Embassies of USA and Canada
Apetorku Easter Festival is an annual convention of traditional believers at Apetorku Shrine (the biggest shrine in the area with over 1,000 sitting capacity hall) in the Akatsi South District, to give thanks and sacrifices of animals to the gods for taking them through a year-long journey.
By Albert Kuzor /voltaonlinegh.com