By: Ewoenam Kpodo | Voltaonlniegh |
The Volta Regional Coordinator, Domestic Violence and Victim Support Unit (DOVVSU) of the Ghana Police Service, Chief Supt Mercy Wilson-Brown has asked adolescent girls to report people who perpetrate crimes especially sexual abuses against them assuring of their protection by the Constitution of Ghana.
Chief Supt Wilson-Brown mentioned such crimes as defilement, rape, child marriage, assault among others which must be reported to either parents or teachers and institutions like the Social Welfare Department and the Police for appropriate actions.
The Regional DOVVSU Coordinator who made this call at a 3-day (6th-9th August, 2019) regional camp for adolescent girls in basic school held at Adult College, Tsito, Ho West District cited articles 26 and 28 of Ghana's Constitution which dealt with the protection and welfare of a child, to support her claim.
She spoke on Domestic Violence and Gender-Based Violence to the 103 adolescent girls drawn from four districts in the region which included North Dayi, South Dayi, Central Tongu and Ho.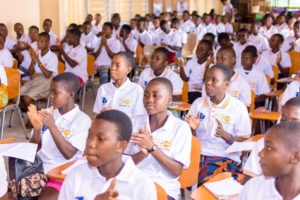 She advised girls to warn people wanting to abuse them sexually of the jail term they could face and insisted that they must not fall to tricks and threats of such perpetrators saying, "every sex (rape/defilement) has terrible repercussions and can affect you for the rest of your life."
Chief Supt Wilson-Brown urged girls who had ever been sexually abused to speak up as such a crime had no timeline, "it's like the steadfast love of God, it's always fresh."
She advised the girls to be careful of their environments, know how to keep themselves safe to become role models for other girls noting that though there were laws to protect them, they better be "safe than sorry" as "sex is not young people's game, don't play it."
She charged parents and guardians to be mindful of who their wards chat and meet with, what they do outside home, and befriend them to know what goes on around them in order to prevent them from falling victims to such crimes as kidnapping and sextortion.
An official from the Reproductive Health Unit, United Nations Population Fund (UNFPA), Dr. Claudia Donkor urged the girls to make informed decisions so that they could stay in school
longer to achieve their desired aspirations.
Dr. Donkor said it was important for the girls to receive guidance and counseling education on sexual reproductive health and to exercise their rights to it to ensure the fulfillment of their potentials.
Volta Regional Director, Department of Gender, Lena Alai, explained the need for the UNFPA-sponsored camp saying, the teenagers "have taken over child bearing from the adults" citing the Multiple Indicator Cluster Survey Report of 2017/18 which showed that the region had a high adolescent birth rate of 103 per 1,000 births which was above the national average of 75 per 1,000 births.
Madam Alai said it was important to assemble the girls for education on dangers of teenage pregnancy and how they would fall out of Sustainable Development Goals 3, 4 and 5 which talked about Good Health and Well-Being, Quality Education, and Gender Equality respectively.
Two young role models from University of Ghana, Legon, Melanie Mensah, a level 300 Law student at and Wendy Dogbegah, a level 200 Biological Science student each motivated the girls with their stories of how determination and focus contributed to what they had achieved as girls themselves.
The young role models encouraged the campers, assuring that they needed not to have started great but be ambitious having the sky as not the limit but the springboard to reaching higher heights.
Source: www.voltaonlinegh.com